SkillUp – intensive online courses for those who want master skills in IT.
Make your move into IT with web development, backend, frontend, UI/UX design courses, and a WordPress special course.
Our Web-development course is a 20-hour online intensive with the a talented instructor who has 10+ years of experience in development.
We'll teach you how to: create websites from scratch, design animations, take your websites straight up into the search results.
Our ultimate goal is to teach you exactly how to think as a developer, so you'll easily be able to create the best solutions for your projects.
We will gradually master all this stuff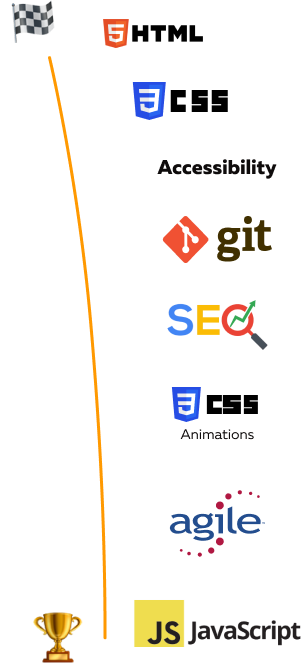 So, what will you learn in the course?
CSS

Make your websites more beautiful with CSS

WEB

Understand the web development process

HTML

Create website markup using HTML tags

fonts

Learn how to attach unique fonts

easy of access

Learn how to make your website accessible for everybody

SEO

SEO basics: help users find your website faster

animations

Make the website dynamic with CSS animations

JS

JavaScript events

GIT

Version-control system
What is web-development?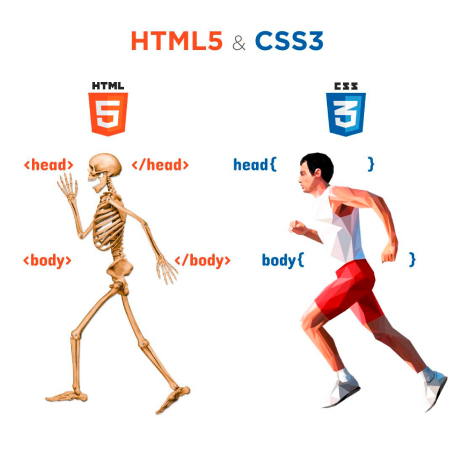 The course will be useful for:
Any beginners who have never tried coding before

Children and Students for self-development and future profession

Designers who want to know more about how to code

Product Managers in web IT field
How's the studying coming along?
Each lesson consists of both a lecture and a project. After desk work, we'll take on some new tasks together.
We focus on a common project: a web page that we use for learning how to slice.
You're given homework after each lesson, with several days to get it done.
Have any questions? You are welcome to ask your mentor online at any time..
Certificate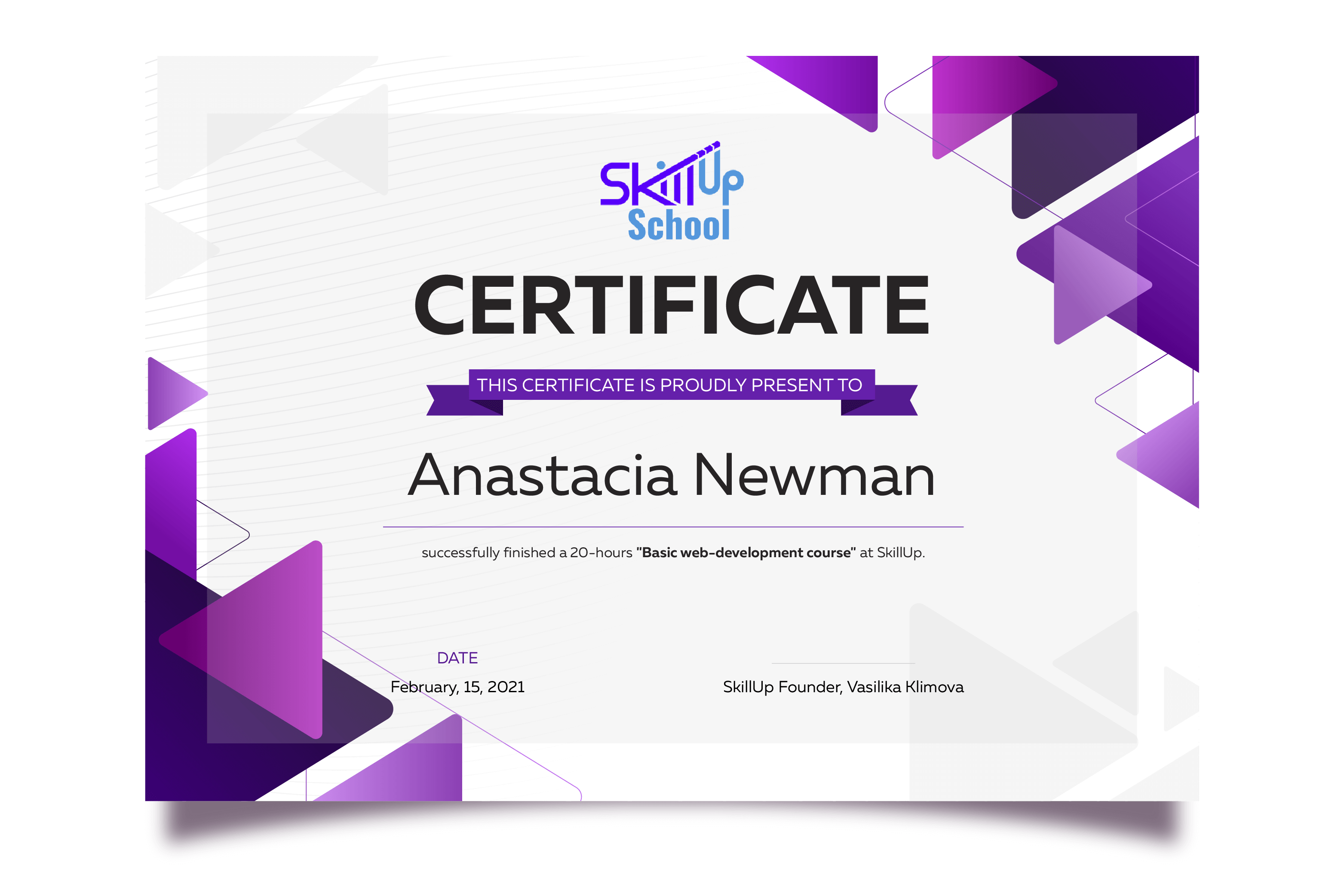 At the end of the course, you will be presented with SkillUp's certificate confirming your level of knowledge.
Google Meet
What do I need to get started?
It's as easy as ABC: you just need a computer with an internet connection. We are going to use Google Meet service for meeting together.
Your instructor and mentor - Vasilika Klimova
Vasilika Klimova has authored several courses, collaborating for many years as an instructor and mentor, in well-known online and offline schools, including HTMLAcademy, Netology, Moscow Coding School, GeekBrains school and Loftschool. She has been a regular speaker at various Frontend Europe Conferences.
She currently works for Avaloq and previously worked as a Team Leader at Artec 3D and other European companies.
Vasilika has the rare ability to make complicated things easy to understand, explaining technical materials in ways that make clear to people of all ages and skill levels. She has helped many students who had no previous coding experience when they came to her to finally change their jobs and become programmers, entering into the exciting world of information technology.
Join the course and get:
Theory in easy-to-comprehend ways

Practice with the class during lessons

A quiz following each lesson

Homework assignments

Checking homework and answering questions

Finishing projects during lessons

Receiving a certificate of completion

Free consultations following the course
Grow your web-development skills
Full course — 10 lessons
QnA
When does the course start?
The next one will be starting in mid-November.
How long will the course last?
The course consists of 10 lessons, giving you 20 hours of immersion in web development.
How long is one lesson?
Each lesson is 2 hours.
On which days and times will the classes be held?
On weekdays in the evening. From approximately 6:30 pm to 8:30 pm.
How many people will be in my group?
Small groups with up to 10 people, an ideal size for online learning.
Will the lessons be recorded?
No.
Can I pay for the course in several installments?
Yes, certainly. The payment can be divided into 2 or 3 parts.
Will there be any help offered in finding a job after course completion?
We offer mentoring for this.
Will I receive a certificate of completion?
Yes, every student will receive a personal certificate confirming their knowledge.
What is given more emphasis in the classroom: practice or theory?
In the classroom, we will study both theory and practice from day one. Students will also be given a hands-on homework project that will perfectly complement their portfolios.
Is this course suitable for a teenager who wants to focus on web development?
Yes! We already have teenagers who have successfully completed the course.
What kind of position will a graduate of these courses be able to apply for?
HTML Developer. You'll need to take an additional course if you want to move deeper and become a more broadly-focused specialist. This course is designed to be an introduction to web applications, and afterwards you'll have a solid foundation for going in various directions, whether that's design, interface development, server development, etc.
Can I have an individual lesson with the teacher?
If you want the focus and concentration that a one-on-one learning experience can deliver, an individual lesson is perfect for you. Our experienced Teaching Professionals offer private 60-minute one-time sessions. The price per lesson is €95. For more information, please, write here: info@skillup.lu
Any questions?
We'd love to hear from you! Just drop us a message
or give us a call!